Poem: Our Shields
A police badge is deeply symbolic and should always be honored by those who carry its weight
---
Calling all police poets! PoliceOne's poetry column highlights some of the inspirational, moving and funny poems authored by our readers.
This poem is by Cole Duvall of the Texas Highway Patrol who says, "I first got the idea for writing this poem while creating a presentation for a basic instructor course. I wanted to speak about a new view of police mentality.
"I started looking online and came across a reference to a badge being referred to as a shield. The shield is one of the oldest tools mankind has developed; the primary function is to block aggressive strikes, that is, to defend.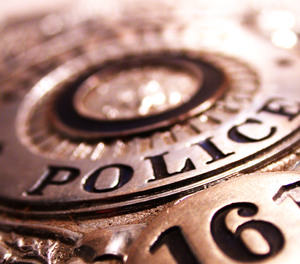 "While we carry different equipment on our duty rigs, we all wear a shield, which is the first thing presented when we make contact with the public. It is front and center when speaking to anyone. We bear our department, our coat of arms for all to see. This design is deeply symbolic and should always be honored by those who carry its weight."
Email your original writing submission for consideration to editor@police1.com.
Our Shields
We bear our shields
With courage, honor, and pride
Our feet dug in the earth
We brace for the coming tide
They think that we are mindless
Attacking anything at will
They think that we are hungry
Just looking for a thrill
They treat us as different
Believe they see it in each face
They judge us for our actions
But they have not been in our place
They say that they hate us
And our "warmongering" ways
But when raiders come to the village
We are the ones who stay
Some call us reckless
Violent, angry and keen
Some think that we are greedy
But we know not what they mean
Guardian is our title
We protect those in need
We swear that upon our shields
That is our honored creed
Our shield is our symbol
It is held against our chest
The waves and the assaults
They break upon its crest
We will stand together
Our shields held side by side
We bare our shields to protect
The line shall not divide
We face ever outward
Our shields held up high
The innocent safe behind
Our spears up to the sky
Yes, we carry weapons
But our quest is to defend
We will fight for another's life
We will fight to whatever end
The people know they need us
And yet they fear us still
In their hearts they do not trust us
And maybe never will
Our mission is that of service
It is a thankless one indeed
We wish so much to lower our shields
But there will always be a need
We will remain at our post
Our shields shining bright
The enemy will never win
Not on this or any night
One day, my shield will fall
There will be a hole in the line
But another guardian will come of age
And he will take up what was mine
My spirit will stand guard
Over the one who took my place
I will still be on the line
I know the danger they will face
We will guard the innocent
From any threat we see
My only request, at my final rest
Is please remember me