Spotlight: Whether you're in law enforcement, the military, or an outdoor adventurer, these boots are built to last
Face any obstacle with ALTAI™ tactical boots
---
Company Name: ALTAI™
Headquarters: Oakdale, MN
Signature Product: ALTAI™ Tactical Boots
Website:  http://www.altaigear.com/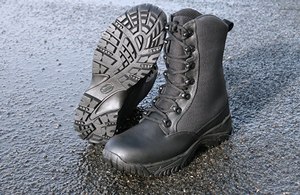 Intro: Leveraging our patented SuperFabric® brand materials, the ALTAI™ brand has created a revolutionary tactical boot that is lightweight, durable and extremely comfortable. The ALTAI™ team has worked vigorously to identify the exact needs of its market and audience. We have collected our findings from nationwide trade shows to meeting with local law enforcement and have focused on listening to what matters most from our consumers and then bringing their desires to life. The ALTAI™ team, through our diligence, has discovered the compelling opportunities that exist within the market, where others have fallen short.
Where did your company name originate from?
ALTAI Gear originated from discussions with our ALTAI team and CEO, Dr. Young-Hwa Kim. We were designing multi-functional footwear with the end user in mind and the Altai mountains stood out to us as a collection of rougher terrains and landscape that fit the description of our footwear. Our boots are designed for rougher terrain and landscape with our high performance materials that we use, SuperFabric, for added abrasion and cut resistance. 
What was the inspiration behind starting your company?
ALTAI Gear is a division of Higher Dimension Materials, Inc. Our main product at HDM is SuperFabric. SuperFabric is a highly abrasive material that is engineered with performance in mind. You can learn more about SuperFabric here (www.superfabric.com). We've been working with footwear brands for years but many only use SuperFabric in smaller key areas for abrasion. As the inventors of SuperFabric, we want to showcase our incredible material in large scale and felt footwear was the best way for us to do that. 
Why do you believe your products are beneficial to the police community?
ALTAI Gear products are essential to the police communities because what we offer is one of the lightest weight boots on the market but we still remain one of the most durable boots out there due to our SuperFabric coverage. Our boots have a no break-in period and offer ankle support comparable to a running shoe. Our SuperFabric material is going to protect these officers no matter what environment they are in during their daily shifts.
What has been the biggest challenge your company has faced?
Our biggest challenge at this point is getting our brand name out there. We first came out with 1 style designed specifically for the law enforcement officer, but now have expanded to have 5 styles and added sizes as well. We are only less than 2 years into ALTAI, but we are gaining more and more awareness locally in Minnesota but working hard to spread the word about ALTAI to the rest of the country.
What makes your company unique?
What makes our company unique is that we go directly to the law enforcement officer and understand what their needs are for their footwear. We spent three years doing this to understand what is truly needed for a LE officer and designed our boot to fit those needs and exceed the durability they are used to with other brands. We also utilize one of the top performance materials on the market, SuperFabric, to provide our customers with a product that not only will be comfortable, but will also protect them from any sharp objects they encounter during a chase or search.
What do your customers like best about your products?
Our customers love how lightweight, durable and comfortable our boots are. The first response we get whenever someone picks up a boot of ours is, "Wow, you weren't kidding when you said these are lightweight!" What they like most about our ALTAI team is that we come directly to them and work with their departments to set up display times and allow their officers to try our boots on before/after their shifts.
What is the most rewarding part of serving the first responder community?
We realize that each officer or deputy we talk to puts their own life at risk on a regular basis to help people they don't even know! These people are special, and it is an honor to work with them. The most rewarding part of serving the first responder community is knowing that by serving them, we serve a higher cause.
Is there any fun fact or trivia that you'd like to share with our users about you or your company?
We're located within a mile of a company famous for inventing the Post-It. Which company is it?
                                                                                
What's next for your company? Any upcoming new projects or initiatives?
Next for ALTAI is the development of work/safety boots with composite toe insert and oil/gas boots in the near future as well. We've just upgraded our website and will be adding more videos/blogs to it throughout 2015!