Hands-on with SilencerCo's AR suppressors and Maxim 9 handgun
The integrally-suppressed Maxim 9 uses Glock 17 (9mm) magazines and drops the noise level to 139 decibels or below, compared to 160 decibels from a standard pistol
---
A suppressor, like a firearm, is useless if you don't have it when you need it. SilencerCo was showing off several full-auto capable patrol rifle suppressors at SHOT Show 2016 that not only are short, but also have fast-on, fast-fast off adaptors in case the extra 5-9 inch length makes them too long for your existing patrol car mount. Grab the gun, grab the suppressor, twist on and go.
Both their Saker and Specwar lines include multi-caliber versions that can handle 5.56 to .300 WM or .300 RUM. The Specwar quick-connects to a proprietary flash hider or muzzle brake, making the patrol rifle safely operable with or without the suppressor.
If your agency doesn't mind filling out a Form 5 for an SBR, both lines are warranted down to 7 inch barrels for 5.56 and .300 blackout and 12 inch barrels for 7.62. MSRP runs from $1,200-$1,400 for the Saker line and from $770-$972 for the Specwar line.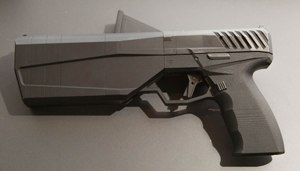 Another exciting product from SilencerCo is the integrally-suppressed Maxim 9. This firearm uses Glock 17 (9mm) magazines and drops the noise level to 139 decibels or below, compared to 160 decibels from a standard pistol. The Maxim 9 pistol is sub- and super-sonic ammo capable, although restricting it to subsonic loads allows the user to remove two of the modular baffles, shortening the length by about an inch.
At this writing, the projected price of the Maxim 9 is approximately the same as a good pistol plus a suppressor price – in the $1,400 to $1,800 range with LE and agency discounts bringing it down a few hundred dollars. A carry gun without a holster is pretty useless, so they are working with several holster companies but could not state which ones. The Maxim 9 is expected to ship in Q4 2016.