At least 4 dead, 14 wounded in Vienna terrorist attack
Two suspects have been arrested, police said
---
By Jessica Schladebeck
New York Daily News
VIENNA — Authorities in Austria on Tuesday arrested a pair of suspects in connection with a shooting spree across the nation's capital city of Vienna, which has so far left four dead and another 14 wounded.
Austria's chancellor, Sebastian Kurz identified the victims only as "an elderly man, an elderly woman, a young male passerby and a waitress," according to The Guardian. He also praised a "brave" police officer who was wounded during the "repulsive terror attack," which unfolded just hours before a coronavirus lock down was set to go into effect.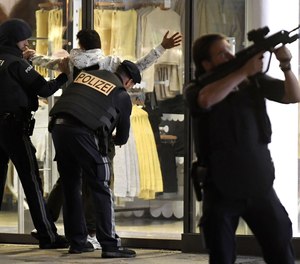 The deadly incident began Monday around 8 p.m. local time, when at least one gunman opened fire near a Vienna synagogue, which had been closed and empty at the time. From there, witnesses said the assailant randomly fired at cafes and bars, packed with patrons enjoying a final night out before businesses are forced to close once again amid the global health pandemic.
Austria's interior minister Karl Nehammer told NPR a lone suspect, armed with a rifle and fake explosive vest, was killed just minutes later by police. He said the alleged shooter was a 20-year-old dual citizen of Austria and North Macedonia.
The suspect, who has not been named, was recently sentenced to 22 months in prison because he attempted to travel to Syria in a bid to join the Islamic State. He was released just seven months into his punishment because of how laws there are applied to young adults.
ISIS has not taken responsibility for the attacks, according to CBS News.
Another two people were detained in connection with the shooting spree in the town of St. Polten, about 40 miles west of Vienna, authorities announced on Tuesday.
"According to what we currently know, there is at least one attacker who is still on the run," Nehammer said. "At the moment we can't rule out that there are still other attackers out there."
It's still not clear how many people in total were involved in the attack. Authorities have so far pinpointed at least six different shooting locations.
(c)2020 New York Daily News
McClatchy-Tribune News Service