Trauma surgeon takes lead on campaign to train police, bystanders on bleeding control
The team is partnering with EMS providers to conduct the largest "Stop the Bleed" campaign in New Jersey
---
By Police1 Staff
NEWARK, N.J. — A team is directing a campaign to teach law enforcement and civilians how to control bleeding during emergency situations.
The team, led by Rutgers New Jersey Medical School trauma surgeon Adam Fox, is partnering with EMS providers from University Hospital to conduct the largest "Stop the Bleed" campaign in the state.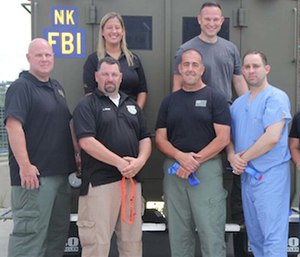 "A person can die from blood loss within minutes, so it is imperative to stop the bleeding quickly," Fox said. "Although we don't know the data yet, the scenario in Las Vegas, where there were thousands of concertgoers, could potentially have had dramatically different outcomes if the public knew how to stop bleeding and were armed with the proper tools. People bleeding out from a leg or arm wound would have a greater chance of survival."
"Stop the Bleed" is a national awareness program that empowers people to train and learn how to help with hemorrhage control before responders arrive. Fox's team has trained over 500 responders and civilians.
The campaign consists of a 45-minute course that shows people how to use a tourniquet, pack a wound and stop bleeding with direct pressure. Additionally, a legislation campaign is being planned in order to place bleeding kits in public areas that contain tourniquets, pressure dressings and gauze.
"Unfortunately, there is no legislation in the country that mandates bleeding control equipment in public spaces," Fox said. "However, we are working with multiple agencies, including the Port Authority of New York and New Jersey, to eventually make these kits available to the public. A legislative campaign is planned for after the election."