NY officer injured, suspect shot after meat cleaver attack
Det. Brian O'Donnell suffered a 6-inch gash to the face after being hit by the meat cleaver and is in serious condition
---
Anthony M. Destefano
Newsday
NEW YORK — A homeless man with a meat cleaver hacked an off-duty NYPD detective in the face Thursday afternoon at the end of a foot pursuit through midtown Manhattan, police said. Other officers then opened fire, striking the suspect multiple times and grazing another officer, police and sources said.
The off-duty officer was identified by a law enforcement source as Det. Brian O'Donnell of Long Island, a 16-year NYPD veteran assigned to the 19th Precinct on Manhattan's Upper East Side. The detective was taken to Bellevue Hospital Center where he was in serious condition with a 6-inch gash to his face, police said. An officer grazed by a bullet and another officer who sustained an unspecified minor injury, were also treated at the hospital.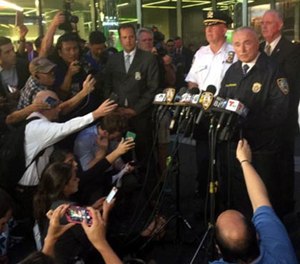 The suspect, identified as Akram Joudeh, 32, with a last known address in Queens, was in critical condition at Bellevue, police officials said at a news conference Thursday night.
The attack, coming just as stunned workers were pouring out of office buildings and then forced to run for cover, ended after officers unloaded at least 18 gunshots, police said.
Police Commissioner William Bratton, on his final full day heading the department, heaped praise on the responding officers and defended their actions after being questioned by reporters about so many shots fired.
"You have a character running down the street with a meat cleaver," Bratton said at the news conference. "The officer fired sufficient rounds to stop the attack."
The off-duty detective, who got the worst of the attack, was on his way to Penn Station to head home after appearing in court, Bratton said, adding he "did what any officer would do" after seeing the altercation, and ran to assist.
After the gunfire rang out, cops and pedestrians took off on foot, said Franchesca Benitez, 26, the manager of Mandee Boutique in the Manhattan Mall on the corner of Sixth Avenue and 32nd Street.
"We were getting ready to do a shift change and I heard shots," she said, estimating about four to six. "I saw everybody running and police running."
Chief of Department James O'Neill said the attack happened after officers approached Joudeh at 31st Street and Broadway as he attempted to remove a steel parking boot from his car. He pulled out the meat cleaver with an 11-inch blade and ran north on Broadway with at least six officers in pursuit, O'Neill said.
The suspect ran up Sixth Avenue until he turned onto 32nd Street, O'Neill said. An officer hit Joudeh with a Taser but the weapon failed to stop him. Joudeh, who O'Neill said lived in his car, then mounted the front grill of a responding patrol car. The off-duty detective, in plain clothes, tried to knock the cleaver from the man's hand when Joudeh struck him with it, O'Neill said.
Several witnesses described a chaotic scene that unfolded so rapidly it all didn't seem real at first. 
The sound of staccato-like bursts of gunfire bounced off the high-rises on 32nd Street. Pedestrians ran for cover as NYPD officers descended on the scene.
One woman said she thought it was a car crash, or a terrorist attack.
Rockville Centre lawyer Joseph Sands was in his office nearby when the sound of six pops of gunfire got his attention.
"I heard gunshots from my office, pow, pow, pow, pow," he said. "Then all of a sudden, I heard sirens."
The ensuing scene was like nothing he'd seen before.
"It sounds terrible," Sands said. "I'm surprised to hear it anywhere. I just know it from movies."
Pierre Damico, 62, from New Hyde Park, was shopping on 32nd Street when he heard the shots. He estimated he heard about four or five.
"My heart is still going," he said. "Everybody just took off. It's scary. It didn't sound like a gun either."
Initially, store manager Benitez said, she thought it was a car crash — maybe even a terrorist strike. She ran to the other Mandee store that is farther back in the mall. There, she found employees trying to hide in dressing rooms.
"It was crazy, it was insane," she said. "I didn't know what to think, just commotion."
Cory Melton was at 32nd Street and 7th Avenue checking his phone when he saw a man on the ground being restrained by police officers.
"I saw someone being detained on the ground. And he was being worked on," Melton said. "I didn't see any blood."
McClatchy-Tribune News Service