The point of policing
It can be a struggle for today's police leaders to connect officers with their mission as they field questions like, "Does anyone care?"
---
By Chief Janie Schutz, P1 Contributor
Maintaining officer morale is critical to the success of every law enforcement agency, yet it can be a struggle for today's police leaders to connect officers with their mission as they field questions like, "Is anybody watching?" and "Does anyone care?"
Remember our mission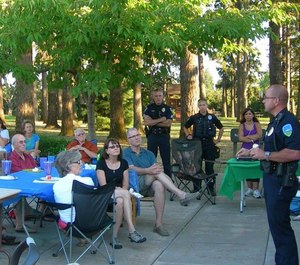 Thirty years ago, I came to law enforcement convinced most people are instilled with a deep sense of goodness. As a police officer, my task is to serve those good people and keep them safe. In fact, the Law Enforcement Code of Ethics begins with the following:
"As a law enforcement officer, my fundamental duty is to serve mankind; to safeguard lives and property; to protect the innocent against deception, the weak against oppression or intimidation, and the peaceful against violence or disorder; and to respect the Constitutional rights of all persons to liberty, equality, and justice."
As a police chief, my number one goal is to have my officers understand that every person we come across in our work – and we come across all kinds – is worthy of our service, our guardianship and our respect. Recent events though, in cities and towns across our nation, have probably caused many of us, both police and citizens alike, to wonder what in the world is going wrong in America.
How do tragedies like the Aurora, Newtown, Las Vegas and Parkland shootings happen?
Have police let the American public down?  
Have we not been vigilant enough in our oath to the public?
My answer is a resounding "NO!"  
The value of citizen partnerships
There is no doubt that police need to continue to grow and understand their individual communities, but the people that make up "our America" need to understand their own responsibilities to each other in keeping their communities safe.
In a democracy, effective police are reliant on citizen cooperation at a minimum and citizen partnerships at best. Citizen partnerships can be everything from individual vigilance to neighborhood watches. There is no better example of a citizen's diligence than when a man in Watertown, Massachusetts, saw blood on the tarp of his boat several years ago and quickly reported this to the police. His vigilance led to the arrest of the second Boston bombing suspect. A member of the community made the conscious decision to get involved and a great thing happened.
How police leaders can develop partnerships
To develop and nurture partnerships with the community, police leaders need to:
Embrace change: When police leaders embrace change, partners – both inside and outside of the department – will share information relevant to collaboration without hesitation.
Make the effort: The business of policing shouldn't be just about successes or failures, but rather about the effort you put into assisting your community in becoming a safer place to live.
Remember your mission: Enthusiasm is contagious. Don't ever forget why you became a cop, as it most often began with the desire to want to help those who can't help themselves. This is where our inner strength and perseverance comes from.
So the next time one of your patrol officers asks, "Is anybody watching?" or "Does anyone care?" remind them that our children are watching, our neighbors are watching, our leaders are watching. Our entire community cares. Citizens look to us for our service, our guardianship and our respect. And when we as police officers come together to provide these things, we can say that we watched, we cared. And that's the point of policing.
---
About the Author
 Janie Schutz is chief of police in Forest Grove, Oregon. Her former position was that of chief of police in Wadesboro, NC. Prior to that, Chief Schutz served as an instructor/coordinator for the North Carolina Department of Justice/North Carolina Justice Academy in the Criminal Investigations Division, and was with both the Marion Police Department and the Lake Lure Police Department, all located in North Carolina. Chief Schutz is a graduate of the FBI National Academy Class #248.