Fla. union president suspended for critique of department's response to COVID-19, sues sheriff
The lawsuit alleges Sheriff Gregory Tony infringed on Deputy Jeff Bell's First Amendment rights of free speech by suspending him
---
Devoun Cetoute
Miami Herald
BROWARD, Fla. — The Broward Sheriff's Office's union president has sued Sheriff Gregory Tony for his job back after Tony suspended him Friday for saying BSO was not providing the deputies with proper equipment to protect themselves from the novel coronavirus, the lawsuit says.
On Wednesday, Jeff Bell, president of the Broward Sheriff's Office Deputies Association, and his attorney Robert Buschel, filed the civil rights lawsuit against Tony in Fort Lauderdale federal court.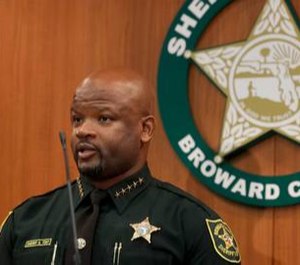 "This is a case about the scope of free speech during an unprecedented time in our nation's history, while a pandemic of COVID-19 viral infections kills thousands every day," the lawsuit said.
Buschel told the Herald Wednesday night that Bell was suspended with pay and removed from his union post on Friday because "Bell was critical of the sheriff's lack of response for personal protective equipment for the deputies dealing with the coronavirus."
The lawsuit alleges Tony infringed on Bell's First Amendment rights of free speech.
Veda Coleman-Wright, the sheriff's office public information office director, said in an email Wednesday, "We make it a practice not to comment on pending litigation."
Bell is not looking for any monetary compensation, but wants the court to stop BSO's internal affairs investigation, to reinstate him as a deputy and to bar Tony and BSO from punishing a sitting union president for voicing opinions that criticize the sheriff's office, Buschel said.
"Reinstate him, don't threaten him and don't do it again because he is allowed to speak out," Buschel said.
BSO has accused Bell of corrupt practices, conduct unbecoming an employee, and violations of policy on truthfulness, employee statements and discretion by the sheriff's office.
The dispute between Bell and Tony has been going on for months, but has become more heated over the last two weeks when Bell wrote a letter and subsequent column in the South Florida Sun Sentinel, condemning what Bell says is BSO's inaction to secure protective equipment for its deputies.
A 39-year-old BSO deputy, Shannon Bennett, died on April 3 of COVID-19, the disease caused by the coronavirus. He was a 12-year veteran of the department.
Tony, in a news conference last week, detailed the steps that BSO has taken to protect its workers, including buying 25,263 N95 masks, 44,773 surgical masks and 4,109 sanitizers that can be refilled.
"Anyone can criticize the sheriff; he is a political figure," Buschel said. "He has to run for office and is running for office. So to single out the president of the union because you have power over him is wrong."
The internal affairs' investigation and Bell's suspension could last up to 180 days.
On Tuesday, members of the union began casting ballots on a no-confidence vote the union called against Tony. They will have until Monday to vote. The results of the vote will be announced April 20.
The union sent a letter to its members on Monday listing its accusations against Tony, which it said included lying on his original job application to the Coral Springs Police Department and firing BSO deputies without due process.
McClatchy-Tribune News Service