Traveling with your concealed carry firearm: What you need to know before leaving home
Whether you are traveling by plane, train or automobile, planning ahead is key to a hassle-free trip
---
If you travel out of your home state, chances are you'll want to bring your firearm. You may drive, fly, or ride the train.
Do your homework and look at the local gun laws when you do your trip planning. Different states and jurisdictions have certain restrictions around things like ammunition type and magazine capacity. There are some areas where firearms are not authorized. For example, you can't bring firearms onto military bases, into federal buildings, or in some buildings/areas of national parks. If you have arrangements to stay in guest quarters on base, coordinate with the Security or Provost Marshall's office. Some facilities have lock boxes for visiting officers; however, that is the exception more than the rule, and you may be turned away at the entrance.
I'm not going to address international travel, as that is a subject rife with potential problems. Traveling within the continental United States is relatively easy; however, traveling to Hawaii and the U.S. territories with a firearm is a little more complicated. Hawaii requires you to register and get a fingerprint checked within five days of arrival. Puerto Rico and Guam-visiting LEOs must register with the local police department upon arrival. U.S. Virgin Islands does not recognize LEOSA cards from other states and issues its own (pink cards for retired LEOs). Do your research – there are several good websites and smartphone apps out there with the latest information.  
TRAVELING BY PLANE WITH YOUR CONCEALED CARRY FIREARM
More than likely if you are traveling long distances, you are going to fly to your destination. Transporting a firearm on a commercial flight is not difficult; however, it can be a little more time-consuming than just flying with a carry-on bag. 
TSA regulations state you may transport unloaded firearms and small amounts of ammunition (under 11 lbs.) in a locked, hard-sided container as checked baggage only.  
Go to the TSA website to access the regulations. It's also a good idea to keep a copy of this with your gun box. You may want to consider obtaining supplemental insurance for your baggage.
Additional considerations when traveling by plane with your concealed carry firearm include:
1. Packing
A steel locking (key or combo) box with a restraining cable is best; they average $20-$30. A Pelican-style case works too with padlocks. Unload and clear your weapon and place it in the hard-sided case.
Although not required, having a chamber flag/empty chamber indicator may be a good idea.
Next, place any loaded (or unloaded) magazines and speed-loaders, along with other ammunition, in their original box or a plastic ammo box inside, along with a knife if you choose. The container must completely secure the firearm from being accessed.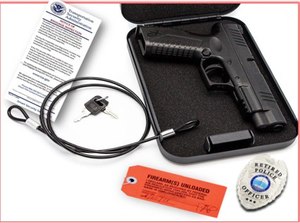 When packing your luggage, use the steel cable to loop around the internal frame of your luggage. Then lock the fixed loop end into the slot on the side of the case. Stack the locked box on top of your clothing, so it's the first thing you see when opening the case.  
2. Labeling
I use a clear, self-adhesive, packing-slip envelope on the outside of my case. This is a convenient and visible place for the red/orange firearm declaration card issued by the ticket agent. You can also leave a copy of your business card/contact information, and a copy of the legal reference (above) for the transportation of firearms. It's a good idea to engrave your name and phone number on the case too.
After you've packed all that, have a TSA-approved lock handy to secure your baggage.  
Other than the orange card on your hard case, nothing on the outside of your baggage should indicate there is a firearm inside. You might also want to keep an information card with your firearms description and serial number with you (not in the bag) in case you need to file a claim or make a report.
3. Check-in
Arrive at the airport with plenty of time to spare. Delays happen and this can cause one.
When you arrive, go to the VIP check-in counter or oversize bag counter to check your baggage. This may also get you ahead of the usual long lines.
Once at the ticket agent, you can declare the firearm. The agent may ask you to open the hard case. They'll give you the orange firearm declaration label to date and sign, which goes ON the case inside your baggage. They will then attach a copy of this form to your baggage claim check for you to keep. Once they are satisfied and you have dropped $25-$50 on your checked bag, they will either escort you or direct you to the TSA oversize bag check. Some may just tag it and put it on the conveyor. Otherwise, you present your baggage to TSA. Open your baggage so they can see the hard case. The TSA agent may ask you to open the case. Then stand back and watch while they swab it for explosives. Once they're done, they'll put their inspection card inside and have you close it up and lock it and then they take custody. Remember that TSA lock you brought?  
If at any time someone demands the key to your hard case, by law, you as the owner maintain the key to this box (49 CFR § 1540.111, 49 CFR § 1544.203).
4. Baggage claim
Most airlines will handle your baggage professionally. With the really thorough programs, one person at each end will handle your bag from the time it is received at TSA until it is handed off to you at the baggage claim office and your ID-verified. Only one time was my bag dumped on the carousel for me to collect.  
When you pick up baggage, usually at the oversize baggage room in baggage claim, open it to make sure all is well. Some baggage agents might zip-tie your baggage closed and instruct you not to open it in the airport. But don't leave the airport until you've verified your baggage and its contents are intact.
It is not uncommon to find TSA has opened your baggage between the time you last saw it and when you pick it up at your destination. In which case, there should be a TSA inspection notice card.
What happens if your bags are missing? You need to report to the baggage agent immediately and advise them that you are missing baggage with a checked firearm. This usually, but not always, gets them moving a little quicker.
If your hard case is missing from your bag, contact the airport police immediately.
Once you get to your rental car or outside the airport area in private, it's OK to gun up.
TRAVELING BY TRAIN WITH YOUR CONCEALED CARRY FIREARM
The procedures for transporting by rail are similar to that for airlines. You must provide notice that you will be checking firearms/ammunition no later than 24 hours before the train departs. Call Amtrak at 800-USA-RAIL. This usually does not apply to local commuter rail, but it's a good thing to check with the local transit police if you have any questions.
TRAVELING BY CAR WITH YOUR CONCEALED CARRY FIREARM
While driving interstate is not usually an issue, laws vary between your home state, those you pass through and your destination. Chances are you won't have any issues unless you encounter law enforcement. There are the "what-ifs" like car accidents, or you being injured or hospitalized. If you are traveling with another person make sure they know what to do with your firearm if you are incapacitated.
Most of you carry on your person or off the body in a purse or bag. However, if you are storing your weapon in a glove box/center compartment, that might be an issue. This is especially true if you get stopped and have to reach for your registration.  
In the event you are stopped, some states have a "duty to declare" that you are carrying a firearm. Regardless, you may advise the officer as a courtesy, which is up to you. Definitely do so if you are stopped and asked to step out of your vehicle.  
MAINTAIN SITUATIONAL AWARENESS, FIREARMS PROFICIENCY
Wherever you are heading, whatever the reason and however you travel, always be safe and maintain situational awareness. Maintain proficiency and keep your firearm in good working order. Don't let the one time you might need your weapon, be the first time it's been fired in a while. Keep your LEOSA qualification card current. Obtain LEOSA/Concealed Carry insurance, and insure your weapon. Lastly, before you go, take the time to educate yourself on the laws that affect you when traveling with a firearm.