Will California's replica gun law work?
Opponents of the new regulations argue the law will do little to prevent mistaken shootings and could actually make things more confusing for officers
---
By Sarah Parvini, Patrick McGreevy and Emily Alpert-Reyes
Los Angeles Times
The last thing Jordan Baylon wants is a fake pink gun.
Baylon, 22, spends much of his free time dressed in camouflage fighting simulated battles against like-minded fantasy warriors. The custom-made airsoft gun he uses to fire small plastic projectiles during the fights is an imposing metal object — a near exact replica of a M4 rifle.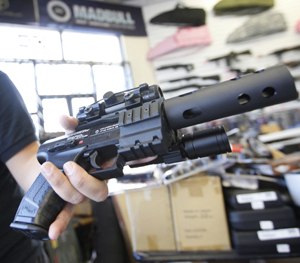 For Baylon and many others in the wildly popular world of airsoft fighting, the draw of their weapons lies in their authentic look. "Paintball was fun, but it didn't have that realism I was looking for," he says, referring to another type of gun that fires paint pellets. "Airsoft looks cool, feels cool."
But Baylon is playing on borrowed time. In September, California Gov. Jerry Brown signed the Imitation Firearms Safety Act, which forbids nearly all types of pellet and BB guns from being shown in public unless they are fashioned in pink, red or another bright color.
Supporters celebrated the passage of the law, which goes into effect in January, saying it was a common-sense response to a long string of tragic encounters in which police shot teenagers who were holding realistic-looking replica guns.
Their concerns were underscored recently when two LAPD officers came upon a group of teenagers in a South L.A. alley. Seeing one of the teens holding what appeared to be a handgun, one officer fired, missing his target but wounding a 15-year-old boy. The gun turned out to be a replica.
The only question now is: Will the law work?
Opponents of the new regulations — a group largely composed of police unions, manufacturers and gun-rights advocates — argue the law will do little to prevent mistaken shootings and could actually make things more confusing for officers who must make split-second decisions whether to fire or not.
When Los Angeles officials were considering a local ordinance that would have required coloring imitation, BB or pellet guns, attorneys for the NRA and the California Rifle and Pistol Assn. sent a letter to the members of the City Council's Public Safety Committee, urging them to reject the city rules.
"Firearms today come in a great variety of colors, even such bright and enticing colors as those required by the proposed ordinance," the letter stated. It pointed out that the union representing the city's rank-and-file officers, the Los Angeles Police Protective League, had denounced the plan.
"This is a horrible idea that may cause officers to hesitate when confronted with a colored rifle when we already know that fully operable handguns and rifles have been painted bright colors," then-union president Tyler Izen said in August 2013, pointing to a number of pink rifles on the market. "The law is designed to create doubt in an officer's mind. If they hesitate, they could be killed."
The union recently affirmed its opposition to the law. "Our officers have to assume that any weapon, regardless of the color, is fully loaded and capable of shooting live rounds," President Craig Lally said, adding, "the very last thing we need is for officers to have a false sense of safety."
But LAPD Chief Charlie Beck and the law's author, state Sen. Kevin de Leon (D- Los Angeles), reject such arguments, saying the law's coloration requirement will help officers determine fake from real.
Charles "Sid" Heal, a former L.A. County sheriff's commander and an expert on police use-of-force issues, said coloring replica weapons "will help, but it doesn't mean there won't be shootings."
"Actions and context, more than the weapons, dictate what an officer does," Heal said, adding that a flashlight or cellphone can be reasonably mistaken for a weapon if the suspect's movements are interpreted as threatening.
While police officer recruits go through rigorous training and simulations that attempt to hone their ability to read fast-moving, potentially deadly situations, officers instinctively focus on a person's actions over the object in his hand, Heal said. "If someone points one of these bright-colored weapons, under the right conditions there will still be a shooting."
Regardless, last week's shooting, which wounded Jamar Nicholson, highlighted the responsibility officers have to read these difficult situations, Earl Ofari Hutchinson, president of the Los Angeles Urban Policy Roundtable, said during a news conference Friday.
"This makes it even more urgent for police officials to review their procedures and training on replica gun recognition and for the community to understand the danger these guns pose," he said.
For years, De Leon and others tried to impose regulations on the manufacturing and sale of replica weapons. De Leon said a spate of police shootings of teenagers with imitation guns gave him an opening to resurrect the idea of legislation.
In committee hearings and floor speeches, De Leon cited a fatal shooting of a boy in Santa Rosa, Calif. and another incident in Los Angeles that left a boy paralyzed. But even last year's bill saw a close vote, with some Democrats joining Republicans in opposing the bill, which was approved 43 to 34 in the Assembly, with 41 votes needed for passage.
"It was a very close vote," De Leon said. "The gun lobby is very powerful. They exert a tremendous amount of pressure."
The National Shooting Sports Foundation Inc., the firearms industry's trade association, led opposition to the bill. That group and the Outdoor Sportsmen's Coalition of California, another opponent, spent $435,000 during the last two years lobbying state government.
De Leon and others know the stakes are high come January. If police continue to mistake brightly colored imitation guns for real ones, the clamor from opponents will be swift and loud.
"Hopefully, this bill will mean no more of these tragedies," Beck said.
Copyright 2015 Los Angeles Times
McClatchy-Tribune News Service