1st LAPD officer disciplined for fireworks explosion receives 10-day suspension
LAPD Chief Michel Moore said a lengthy investigation found "sufficient evidence that misconduct occurred" during the botched explosion
---
By Libor Jany
Los Angeles Times
LOS ANGELES — Nearly two years after the Los Angeles Police Department bomb squad blew up a South L.A. neighborhood during the detonation of a cache of fireworks, officials say the first officer involved has been disciplined.
The unnamed officer was suspended for 10 days without pay for being "deficient in duties which contributed to an excessive quantity of explosive material being loaded into and detonated in the Total Containment Vessel," according to department records posted online Tuesday. The officer was only identified by rank and assignment: police officer III from "technical service maintenance." No other details were provided.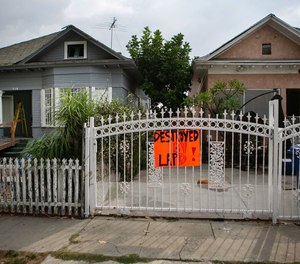 The disciplinary action is the first to come to light against an officer in the widely criticized June 2021 incident, as the city continues to work with the dozens of residents and business owners affected by the blast.
In an interview Tuesday, LAPD Chief Michel Moore said he could not discuss the particular officer's case, citing employee privacy laws. But, he said, a lengthy investigation found "sufficient evidence that misconduct occurred" during the botched explosion. This led him to recommend discipline against a "number of officers that were involved in the handling and process and decision-making," Moore said.
He said he did not know offhand how many officers were ultimately disciplined in connection with the explosion.
An LAPD spokeswoman later clarified that six department employees in all were accused of misconduct in connection in the incident. Capt. Kelly Muniz said two officers were disciplined for their roles and "corrective action" — department parlance for extra training — was assigned to two others.
Details of the other disciplinary case hadn't been made public as of Tuesday.
Under the LAPD's current discipline system, officers facing suspension or even termination for misconduct can have their cases heard before a closed-door tribunal known as a Board of Rights. Disciplinary decisions are generally not announced until their final disposition.
On June 30, 2021, the police department's bomb squad botched the detonation of a large fireworks cache discovered in the backyard of a home on 27th Street in South Los Angeles. The resulting blast ripped through the densely populated neighborhood, injuring 17 people and destroying dozens of homes, cars and businesses. More than 80 residents were displaced.
Two elderly residents who lived on the block and were among the displaced later died. Family members and activists have blamed their deaths on significant stress from the explosion. Officials said the two died of illnesses and natural causes.
An investigation of the incident by the U.S. Bureau of Alcohol, Tobacco, Firearms concluded that police badly miscalculated the amount of fireworks they placed into a containment vessel before detonating them.
Arturo Ceja III, a 26-year-old resident of the block, pleaded guilty in federal court last year to unlicensed transport of explosives from Nevada to California. Ceja told federal investigators that he had bought the fireworks at a dealership called Area 51 in Pahrump, Nev., and had taken them to L.A. in rented vans and trucks over six or seven trips, according to a search warrant affidavit signed by ATF special agent Blake MacLearnsberry.
After being tipped off that someone was selling fireworks from a house on that block, members of the bomb squad and detectives from the LAPD Major Crimes Unit responded to the scene, the affidavit said. A search of the property turned up more than 500 boxes containing roughly 5,000 pounds of commercial-grade fireworks, stored haphazardly in cardboard boxes under a tent, MacLearnsberry wrote in the affidavit.
MacLearnsberry wrote that officers were removing the explosives when a bomb squad supervisor decided some homemade fireworks also found at the house were "not safe to transport due to risk of detonation in a densely populated area and therefore would be destroyed on scene using a total containment vessel."
But a later investigation determined that LAPD explosives technicians accidentally loaded and detonated 39.8 pounds of explosives in the containment vehicle — more than the vessel could safely contain. This was done over the objections of one of the officers present, a report found.
LAPD officials previously told The Times that the officers who caused the blast were held accountable. But Tuesday's disclosure was the first public acknowledgment of specific discipline in the case. The officers involved still haven't been named; department officials say they are bound by privacy laws.
Since the incident, 89 people whose lives were upended by the blast were moved into the Level Hotel downtown, which was paid for by taxpayer dollars.
Earlier this year, Councilmember Curren Price drew public outrage after he told a Times reporter that the dozens of displaced residents still calling the hotel home were "gaming the system a little bit." Price later apologized for what he said were "insensitive" comments.
He has since introduced a motion authorizing $2.37 million in funding to continue supporting the families living in the hotel because they still have no homes. He said his office was looking into securing additional funding to allow them to stay there "for an extended period of time" beyond a city deadline that ended last month.
—
©2023 Los Angeles Times.
Visit latimes.com.
Distributed by Tribune Content Agency, LLC.
McClatchy-Tribune News Service