Ga. city ends hazard pay for first responders
The city, which implemented hazard pay for essential employees in early April, has voted to terminate the program in response to the reopening of the state economy
---
By Laura French
AUGUSTA, Ga. — A Georgia city has decided to end hazard pay for first responders and other essential employees, a little more than two weeks after it was implemented, in response to the planned reopening of the state economy. 
The City of Augusta Commission voted 9-1 on Tuesday to terminate the program that provided an additional $5 per hour in hazard pay for all city employees who were still physically reporting to work during the COVID-19 pandemic, according to WRDW.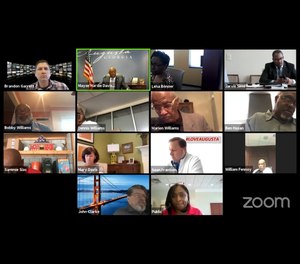 The Extreme Condition Hazard Pay Policy applied to about 1,400 city employees, including firefighters, EMS providers, law enforcement officers, 911 dispatchers, sanitation workers and other members of the city's department of emergency management, according to WTVY. 
Officials said the end of the policy is due to changes in working circumstances statewide after Gov. Brian Kemp announced the beginning of his administration's plan to reopen the state and issued an executive order allowing some non-essential businesses to resume minimal in-person operations. 
Augusta employees are expected to stop receiving hazard pay on May 1. City officials said the issue may be reconsidered depending on future actions by state government. 
The program, which was initially planned to last until June 6, was expected to cost the city about $1.4 million over a two-week period, according to WJBF. Earlier this week, the Georgia Municipal Commission warned Augusta commissioners that it may not be eligible for reimbursement of hazard pay for some city employees who could work from home or are working in city offices closed to the public.