SHOT Show 2017: SIG Sauer's baby 1911s and the new P320 XCarry
The 3.9 inch barrel, 17-round P320 XCarry features a beavertail frame to prevent slide bite
---
A quick internet search for backup guns will lead you to the SIG P938. The 1911-flavored 9mm P938 is almost the same size as the .380 P238 but it has more bang (very literally) for the buck. While SIG is adding new variations to both lines on a regular basis, I'm going to focus on the P938 since I'm a fan of pocket rockets.
Hanae Mansfield, Strategic Product Manager for Pistols, walked me through some of the new models at the 2017 SHOT Show. In the bling category is their rose gold PVD (physical vapor deposition) finish with scroll engraving on the slide. While all the P938s that I have seen have a matte finish, you could comb your hair in the reflection from this baby's slide.
Other new models are the P938 SAS (SIG anti-snag), which has undergone a radical dehorning process resulting in an ultra-smooth, snag free profile that is ideal for concealed carry, and the 938 combat anodized with front cocking serrations and a wrap-around SIG-branded rubber grip.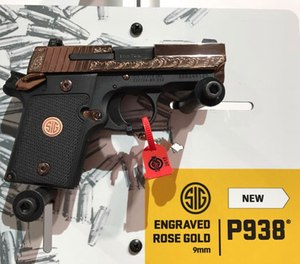 A new P238 and P938 are part of a family called the ASE or Alloy Stainless Elite, which also includes versions of their P226, P227, and P229 products. These pistols have alloy frames and stainless steel slides.
P320 XCarry
The 3.9 inch barrel, 17-round P320 XCarry features a beavertail frame to prevent slide bite, a crowned match-style barrel, and a pre-tensioned barrel/slide for increased accuracy. The slide also has a front top cutout for weight reduction and a patented removable panel for mounting an RMR if you like running reflex sights. There is also an attachment point for an optional removable flared magwell. Like others in the P320 series, this one also features the straight trigger. Three 9mm 17-round magazines will come standard with this $862 MSRP pistol when it ships in March.

Request product info from top Police Firearms companies
Thank You!