Smith & Wesson's new M&P M2.0 pistol offers notable improvements
The new pistol offers notable improvements in the grip, trigger and a clear difference in muzzle rise
---
Full disclosure: I am an avid fan of the Smith & Wesson M&P line of firearms. I own an undisclosed number of S&W M&P guns and consider them to be among the finest specimens in my safe. In fact, the pistol and the AR are my two primary weapons.
Needless to say that when word surfaced that there would be a new gun in the M&P line at SHOT Show 2017, I made a special note to visit their tent at Range Day out at the Boulder Rifle and Pistol Club.
I was not disappointed. In fact, I was elated.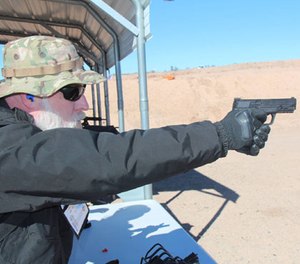 The M&P M2.0 pistol — the newest in the M&P line — offers notable improvements in the grip (a far more aggressively coarse surface for enhanced control) and the trigger. Yes, the sandy grip will probably tear up your clothes a little bit, but it is a joy to hold.
The trigger pull is slightly lighter than the heritage gun — I was not quoted a precise statistic, but I'd venture it's about one and a quarter-pound less. The company says there's a more audible sear reset, but in the cacophony on the line in Boulder City, Nevada I was unable to notice much of a difference.
They've also made changes to — somehow — lower the barrel bore axis ratio. There was a clear difference in muzzle rise between the M2.0 and my beloved M&P back home.
Today's discovery is going to cost me about $600 — and I'm totally fine with that.