Man charged in car chase that killed Milwaukee officer
The man suspected of leading police on the deadly pursuit had also been the target of a drug investigation
---
By Ivan Moreno
Associated Press
MILWAUKEE — Milwaukee prosecutors filed a dozen charges Tuesday against a man suspected of leading police on a high-speed chase that killed an officer when the vehicle he was a passenger in rolled several times last week.
Prosecutors said in charging documents the car chase reached speeds of nearly 100 mph (161 kph), which is 60 miles over the speed limit in the area, shortly before police lost control of their squad car Thursday afternoon. One witness told investigators he saw the police vehicle flip about 20 times before it landed on its roof. The officer killed in the crash, 23-year-old Charles Irvine Jr., was thrown from the car, the witness said.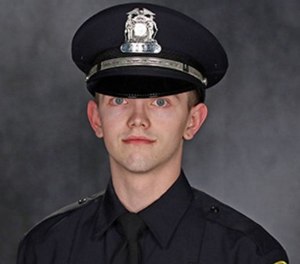 Irvine's partner, Matthew Schulze, 36, suffered a concussion, broken ribs, and a laceration above one eye.
Criminal charges against 28-year-old Ladell William Harrison include eluding police, resulting in death and injuries. Harrison had also been the target of an investigation for drug dealing dating back to December, prosecutors said. He's facing several charges for allegedly manufacturing and selling drugs, including providing the fentanyl that led to someone's death in a Milwaukee suburb.
Until last fall, Milwaukee police were only allowed to chase drivers suspected of committing a violent felony — a directive put in place in 2010 after four bystanders were killed during three separate police chases. Former police Chief Edward Flynn revised the policy after pressure from the Milwaukee Common Council and members of the Milwaukee Fire and Police Commission, who were responding to public outcry over reckless drivers.
Harrison was unaware that the pursuit policy had changed, according to charging documents.
"I thought you guys couldn't pursue vehicles unless a felony," prosecutors say he told detectives after his arrest.
Irvine and Shulze attempted to pull over Harrison's Volkswagen Passat after checking the vehicle license plates while stopped at a traffic light, according to charging documents. Investigators say Harrison fled from officers after they turned on their squad lights for him to pull over.
Harrison told detectives he fled because "he was scared because he was carrying a semi-automatic pistol in the car and he was not supposed to be driving due to his revoked driver's license status," according to prosecutors.
Eleven of the charges Harrison faces are felonies that, when added, are punishable by up to 120 years in prison if he's convicted on all counts. He is being held on $500,000 bail.
Officers were able to locate Harrison using details Irvine and Shulze broadcast before the crash. In their last broadcast to dispatch, they are heard relaying the Passat's plate number before "the sounds of tires screeching can be heard," the charging documents say.
Irvine's funeral is Saturday.