Lessons in Leadership: When patience is a cop's best weapon
Patience exerts a powerful and primary influence not just in tactical operations, but in all aspects of policing
---
This article is part of a 10-part Lessons in Leadership series by Rich Emberlin. Click here to access all of Rich's leadership lessons.
Policing has historically been a job; today it is recognized as a genuine profession. Today's police force is comprised of highly trained, exceptionally smart individuals who possess specialized knowledge and skills. Whether it's a police chief overseeing a department or a patrol officer responding to 9-1-1 calls, law enforcement leaders exist in all ranks of our profession.
Lessons in Leadership is a 10-part series covering the most important principles I learned during my nearly 30-year career with the Dallas Police Department. From explosive confrontations to quiet defining moments, there's no shortage of wisdom to be earned in one of the world's most dangerous professions.
The word SWAT has a kinetic connotation, conjuring up images of assault teams armed to the teeth with special weapons and tactics. But there's a reason why it's an inside joke that the acronym really stands for "sit, wait and talk." Patience exerts a powerful and primary influence not just in tactical operations, but in all aspects of policing.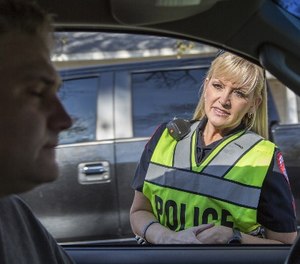 I once had a long discussion with a veteran police chief about the importance of patience in our line of work. He agreed wholeheartedly, saying, "Other first responders, such as firefighters don't have the luxury of patience. The house is on fire and they have to go in." 
Unless law enforcement officers are dealing with an active shooter or other situation posing an imminent threat of death or serious bodily injury, the slow and steadfast approach typically produces the most desirable outcomes.
FOLLOW A FORMULA OF ESCALATION
The word "escalate" is defined as to increase in extent, volume, amount, intensity or scope. Escalation is a technique we rely on heavily in SWAT, particularly in barricaded suspect situations. The logic behind it is simple: escalation buys us time and wears down the suspects. This methodical and measured approach is designed to maximize officer safety and minimize loss of life and injuries, including those incurred by the suspects.
On a scorching summer day, Dallas SWAT responded to a late-afternoon callout involving a suspected bank robber. He had driven the getaway car to a residential neighborhood, committed a home invasion and barricaded himself inside. The suspect was a 20-something male with prior felony convictions and several prison terms under his belt. He was prone to violence and had even spent time in psychiatric hospitals.
Every SWAT operation follows a recipe, and speed isn't always one of the key ingredients. If you hit suspects right after they rob a bank or commit any other type of violent crime, you could be asking for trouble, as they are amped up and high on adrenaline. The passage of time serves two purposes – it enables us to set up and formulate a plan, while hopefully allowing the suspect to cool down.
Upon arrival, we immediately put an emergency assault team in place, established a perimeter and set up snipers. While we waited for the negotiators and equipment trucks to arrive, team leaders met at the command post to devise a plan for an assault on target, although that's the least desirable option. We also worked with the telephone companies to re-route calls; if the suspect used a cell phone or landline to place a call, it would ring straight to the command post and be picked up by a negotiator.
THE COMBAT MINDSET VS. THE COMPASSIONATE MINDSET
A note about police negotiators – they truly are a special breed. SWAT operators normally have the combat mindset, but negotiators also have the compassionate mindset. They are the epitome of patience and selected for that quality. If a group of strangers had spoken to my SWAT team one by one, they could have easily identified which ones were negotiators. Their goal is to seek a peaceful resolution in which everyone comes out unharmed, including the suspect.
Negotiators learn how to leverage the art of patience to manage highly volatile situations and produce desired psychological effects. In addition to the training they received at specialized schools, our negotiators also gained real-world experience by answering the phones at local suicide prevention centers. I've observed hundreds of negotiations and listened to these skilled professionals develop a sincere rapport with suspects. This approach often creates the most positive outcomes. If you're patient with them, that may create enough time for introspection and hopefully, cooperation. However, most negotiators have enough training and experience to pick up on verbal and behavioral cues from the suspect. If negotiations are going south, they will recommend immediate action. 
It's not just negotiators who must develop this skill – patience is key at every level of law enforcement, from front-line patrol officers to the commanders who are responsible for dozens or hundreds of officers. I remember learning about techniques such as "separate and investigate" early in my patrol years.  For domestic disputes, they always taught us to separate the combatants first. There are three sides to every story – the husband's version, the wife's version and what actually happened. With some poking, prodding and patience, eventually officers will find out the truth.
YOU CAN'T CONTROL THE SUSPECT, BUT YOU CAN CONTROL THE ENVIRONMENT
At the barricaded suspect's location, over an hour passed before our negotiator initiated the first call to the suspect, who promptly responded with a string of expletives and hung up. We continued to follow a formula of escalation for several hours – calling, loud-hailing, sending in a throw phone and shutting off his power. In the meantime, the weather added an unexpected element. While the day had started off sunny and hot, a blue norther rolled in and the skies erupted with ice-cold rain. Temperatures plummeted below 32°F. Sleet, hail and snow eventually besieged the frozen SWAT operators, prompting my teammate's wry comment, "I guess the next thing to come will be a plague of locusts."
We were never able to get the suspect back on the phone. It was now 8 or 9 p.m., and some of us had no cover from the elements. Given the harsh conditions outside, the commanders realized this was quickly becoming an officer safety issue. Waiting it out wasn't going to be an option. At this stage of the operation, we leveraged an important truth – we couldn't control the suspect or his actions, but we could certainly control his environment, and therefore, his options.
SWAT decided to deploy tear gas, strategically shooting canisters into the house to drive the suspect toward the front door – a point of tactical advantage. Ferret rounds coming in at 900 feet per second, dumping 6-8 ounces of chemical agent, would affect the suspect in both physiological and psychological ways to our advantage.
The front door was open, so at one point I actually saw the suspect climb up into the attic. Realizing he wasn't coming out, SWAT decided to make entry. We found several guns in the getaway car; he hadn't fired a shot from inside the structure, so there was a good probability he was unarmed. Once inside, we continued shooting teargas into the attic. He was stomping around above our heads, enabling us to triangulate his position and port a hole in the ceiling accordingly. When he stuck his face down through the hole to get some air, two operators tased him in the chest. The suspect was still fighting when we yanked him down, but we were finally able to place him in custody.
No officers were injured, and the suspect would be fine after the effects of the teargas and TASER wore off. If we had made entry right in the beginning, things may have ended very differently. We simply wore him down. Patience paid off and contributed to a successful resolution on one of SWAT's longest days – even with a violent, non-compliant suspect.