Kan. chief: Department has no policy, specific training on 'swatting'
Wichita Police Chief Gordon Ramsay said the department is determined to learn from the fatal officer-involved shooting of Andrew Finch
---
By Tim Potter
The Wichita Eagle
WICHITA, Kan. — The Wichita Police Department has no policy or specific training on "swatting" – a hoax that involves officers being dispatched to faked emergencies, Police Chief Gordon Ramsay said Tuesday.
Ramsay said he is getting calls from police chiefs around the nation after a Wichita police officer shot and killed an innocent man Thursday when responding to a fake emergency call.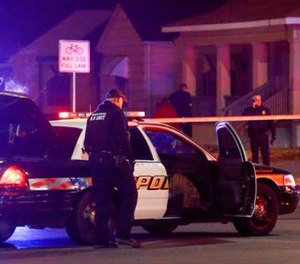 But Ramsay said the department is determined to learn from the tragedy in which Andrew Finch, a victim of swatting, stepped onto his front porch Thursday night and was killed by a Wichita police officer. Police thought that they were responding to a violent hostage situation at the home.
"There will be a thorough review of this," Ramsay said in a phone interview Tuesday evening. "We want to do everything we can so nothing like this never happens again, ever."
He called Finch's death a "terrible tragedy" for Finch's family, adding, "Now we have staff whose lives are forever changed by this incident." And the community is in mourning, he said.
His understanding, Ramsay said, is that it is the first such fatal swatting shooting in the nation.
Ramsay also provided new details about the shooting and the hoax call that led to it: None of the officers at the scene of the faked emergency were members of the police tactical team, known as SWAT, that is specially trained to handle hostage situations like the one that was called in Thursday and led to Finch's death.
It was too early in the emergency call for the SWAT team to arrive "or even be called," Ramsay said.
The initial hoax call that came to the police desk at City Hall showed up as a local call, from the 316 area code, Ramsay said. "The information I have, it was a spoofed number," Ramsay said, meaning the number was faked.
Police have released some limited video of the incident because "it's the one .. that provides the most visual details" of the shooting, he said.
"We believe what it shows … his (Finch's) hands go up and down and around his waistband, and the one arm goes out at about a 45-degree angle."
The video provided was worn by an officer next to the officer who fired, Ramsay said.
The body camera worn by the officer who pulled the trigger was apparently on his head and didn't show as much, Ramsay said.
Asked whether police will release all the video, Ramsay said: "I want to release all that I can. It has got to be in conjunction with the prosecuting attorney's office. … When this is done, we will release all the video. But the decisions … now have to be done in conjunction with prosecutors and state law.
"And it's still an active investigation," he said. "We don't want to influence witnesses; we don't want to influence jurors."
©2018 The Wichita Eagle (Wichita, Kan.)