SHOT Show 2010: Springfield reveals the concealable XD(M) 3.8 back-up gun
While you don't gain any added concealment with the grip length unchanged, you also don't lose any rounds for when the fight is on
---
The Springfield Armory booth at SHOT Show 2010 was crowded with people interested in the company's latest iteration on its XD line of pistols. We spoke with one Springfield employee who told us that he'd been answering questions about the new XD(M) 3.8 all day, pretty much non-stop.
"This is the first time it's been seen by the public, and interest is high," he said. "It's smaller and lighter and makes a lot of sense as a back-up gun."
That it does. With basically the same frame and identical magazine capacity as its bigger brethren, the 3.8 (named for its 3.8 inch barrel) features the marvelous grip ergonomics, a beautiful balance in the hand, and high-quality Melonite finish you've come to expect in an XD. The slide has "slip-resistant" serrations — there is an angular bend in the parallel lines of the serrations — that the company says are "deeper and longer" for "better grasp."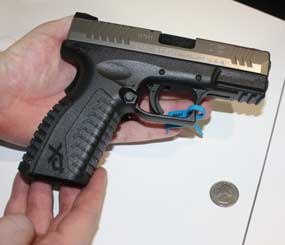 The XD(M) 3.8 sports a triple-position Picatinney rail on which you can mount a small flashlight or laser sight. The trigger has short travel and reset, and can be adjusted between 5.5 and 7.7 pounds of pull. At present, the 3.8 is only available in 9mm, but the Springfield guys told us that the .40 variant is "imminent."
By shortening the barrel, the slide, and the spring mechanism, the company has shaved off an ounce or two from the weight of the pistol, but frankly we suspect that shedding an ounce isn't what they were aiming for (pun intended). Our suspicions on that point were quickly confirmed by the sales representative with whom we spoke: "Everything else is exactly the same [as other XD pistols] — it's just more concealable."
That half inch of length does make a modest difference in your options to conceal the gun — you can choose from a wide array of different pocket holsters, belly bands, and other CCW options.
While you don't gain any added concealment with the grip length unchanged, you also don't lose any rounds for when the fight is on (9mm is 19 +1 and the forthcoming .40 will be 16 +1). That's a tradeoff that could make all the difference in the world — when it comes to bullets, we'd rather have them and not need them than need them and not have them.
Find more info online: Springfield Armory