Battlefield iPhone app makes the move to law enforcement
Raytheon's One Force Tracker can simultaneously coordinate police units
---
By Scott M. Bruner
Police1 Product Editor
Defense industry company Raytheon has developed an intriguing new iPhone application, One Force Tracker (OFT). Developed initially for the battlefield, OFT is designed to track and coordinate different units and is now being developed to work for police. In combat, the application can be used to coordinate troop movements or attacks. For law enforcement, it could be used to dispatch and track units at an incident or coordinate a police or SWAT mission to take out an active shooter.
The application can track a multitude of significant points on the overlay map including location of units, shooter locations, and safe positions. It was based on military messaging standards that provide multimedia access, audio and textual point of interest, text messaging, and collaborative planning.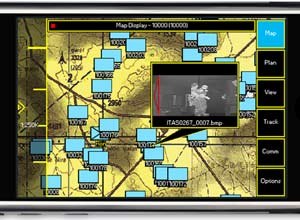 It's able to display unit locations on a map in real time and information can also be transmitted back to a central computer, which can analyze and update data before sending it back.
"It provides a complete 'picture' of where all assets are at any given time – thus enabling officers to know where other resources are, what the tactical picture looks like, and what other personnel are doing and planning," Mike Bostic, Raytheon Director of Civil Communications West Coast Operations, said.
OFT relies on the iPhone's GPS system to track data. It also takes advantage of the iPhone's 3G and WiFi capabilities as well as using the accelerometers to twist and turn the control interface.
It can also be integrated to incorporate video, and to the app is working with the military to use feeds from overhead helicopters, drones, and dashboard-mounted cameras, as well as voice and data. Pictures taken from the iPhone and used in the OFT are georeferenced, time tagged, data tagged, and can include annotations.
"One Force Tracker allows for videos, still photos, digital data and situational awareness in one single application. It's being developed for a group that will constantly be inventing new uses for it. It's the Swiss Army knife for surveillance and tracking for police," Ken Miller, senior principal software engineer on the OFT, said.
The law enforcement applications have been developed in conjunction with the San Bernardino County Sheriff's Office, which has been instrumental in helping Raytheon develop law enforcement specific applications and features.
Raytheon laid out a scenario OFT might be perfect for: providing the ability for a 10-officer team to stake out a group of suspects and coordinate their movements simultaneously. A supervisor and the team would be able to track each other's movements, communicate via text message, and even call up a map of the building they are about to enter.
Another advantage of using the OFT is the ability to use it on undercover assignments.
"Lugging along a police radio is fairly obvious. But using this application all you have is a cell phone – and everyone's got a cell phone," Miller said.
Although OFT is currently being used on the battlefield, the release date for law enforcement is still to be determined. Raytheon has a demonstration application and is working with potential customers to incorporate feedback, understand CONOPS and to make final changes to meet law enforcement's needs.
Raytheon is a technology and innovation leader specializing in defense, homeland security and other government markets throughout the world. For more information, visit www.raytheon.com.

Request product info from top Police Communications companies
Thank You!