Flat tire detours 2 suspects with guns, ski masks from Fla. beach to Ala. jail
The suspects were on their way to Panama City Beach when their vehicle had a flat tire and deputies stopped to assist
---
By Warren Kulo
AL.com
GENEVA, Ala. — Two suspects who were heavily armed and had ski masks were on their way to Panama City Beach when a flat tire landed them in jail, according to law enforcement.
According to Geneva County Chief Deputy Danny Staley, deputies encountered the two suspects last week on the side of Highway 167. Their vehicle had a flat tire and deputies stopped to assist.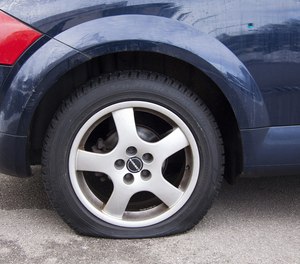 The two males — one adult, one juvenile — said they were on their way to Panama City Beach, but when deputies spotted multiple weapons and ski masks inside the vehicle, the destination changed to the Geneva County Jail, where they face weapons charges.
"They were very vague," Staley said of the suspects' intentions had they reached the beach.
"Just said they were headed for the beach, but more than that they weren't saying."
Panama City Beach Police Chief J.R. Talamantez was grateful for the assist.
His department had already made 397 arrests during spring break. Although an exact number was not readily available, a fair number of those arrested have been Alabama residents.
Talamantez, however, was quick to point out his department isn't concerned with someone's hometown.
"I want to emphasize that our mission is to maintain a safe and welcoming environment for all visitors, regardless of where they come from," Talamantez said.
"We have received some concerns about individuals from Alabama engaging in criminal activities, but I want to be clear that we do not discriminate or make decisions about public safety based on someone's hometown."
Staley said investigators don't believe the two suspects arrested last week were involved in gang-related activity, but they couldn't completely rule it out.
"We don't believe so, but we don't know what their intentions were or who they were meeting up with," he said. "They just had several firearms and ski masks."
©2023 Advance Local Media LLC.
Visit al.com.
Distributed by Tribune Content Agency, LLC.
McClatchy-Tribune News Service