Deputies: Retired Calif. detective is 'Snowbird Bandit'
Retired detective is responsible for a string of bank robberies
---
Associated Press
RANCHO SANTA MARGARITA, Calif. — Authorities in California say a retired Los Angeles Police Department detective is the so-called Snowbird Bandit who's responsible for a string of Orange County bank robberies.
Seventy-year-old Randolph Bruce Adair was arrested Wednesday in Rancho Santa Margarita in connection with five robberies this year.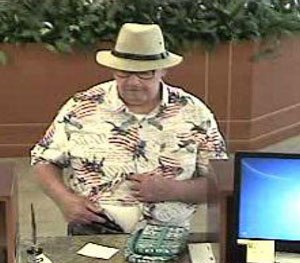 The Orange County Sheriff's Department says Adair's family members contacted deputies indicating they had information about the robberies.
Adair was booked into the Orange County jail and is being held on $205,000 bail. Investigators say they intend to pursue federal charges.
A message seeking comment was left at a telephone listing for Adair in Rancho Santa Margarita.
Copyright 2015 The Associated Press