Tenn. sheriff blames Beyonce's anti-cop song for drive-by outside home, LODDs
The sheriff blamed the singer after a drive-by shooting occurred outside his home
---
By Police1 Staff
MURFREESBORO, Tenn. — A Tennessee sheriff blamed Beyonce as the cause for a drive-by shooting at his home and the death of at least five officers in recent days, Syracuse.com reported.
Rutherford County Sheriff Robert Arnold told the media Feb. 16 that he believes the popular singer is responsible for an uptick in violence against police officers after her Super Bowl performance and new single "Formation."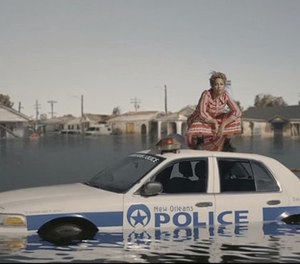 "With everything that's happened since the Super Bowl, with law enforcement as a whole, I think we've lost five to seven officers, five deputy sheriffs since the Super Bowl, that's what I'm thinking," he said at a press conference. "You have Beyoncé's video and that's kind of bled over into other things about law enforcement."
Five officers were killed between Feb. 7 to Feb. 11 in the days following Beyonce's performance and newly released single. None have been officially linked to the song.
Beyonce's "Formation" video features the singer atop a sinking New Orleans police cruiser and a black child in front of officers with his hands raised. She drew criticism during her Super Bowl performance, which critics said paid homage to the Black Panther Party.
Arnold, who's under FBI investigation for selling e-cigarettes to jail inmates, thinks Beyonce's rhetoric is also responsible for gunmen who fired rounds outside his home the night before, The Tennessean reported.
There were about eight shots fired before the gunmen fled. Arnold's 3-year-old son and 8-year-old daughter were home at the time but uninjured.
"For this to happen at my house, it bothers me tremendously," he said.
The sheriff is under investigation for corruption charges after it was revealed he sold e-cigarettes to jail inmates through "JailCigs," a company owned by his aunt and uncle, WKRN reported. He is also being sued for $20 million after an inmate was beaten in their cell.
The sheriff told reporters he couldn't think of any other reason why he was targeted in the drive-by "other than me being in my position, being the chief law enforcement officer in the county."