Training and use considerations for duty electric bicycles
Before or once you have purchased your duty e-bikes, deployment, officer safety and tactics considerations must be addressed prior to use
---
In my previous articles, I focused on the pros and cons of electric bikes for police bike patrol and purchasing considerations for an electric police bike.
This article reviews training and use (deployment and tactical) considerations for police ebikes.
Hopefully, this series will help your agency make an informed decision on whether to use electric bikes for police patrol.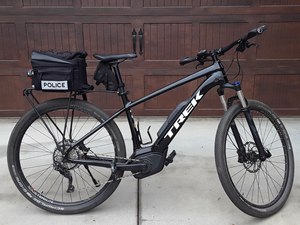 POLICE E-BIKE TRAINING CONSIDERATIONS
Regardless of the make, model and type of e-bike your agency selects, training is essential! E-bikes are heavier and afford even the average rider the ability to travel further and at faster speeds.
The International Police Mountain Bike Association (IPMBA) recommends that patrol personnel first complete a police cyclist course on a "conventional" bike and then undergo additional training to learn how to safely and effectively transfer their skills to an e-bike. This will help reduce the risk of injury and property damage and ensure the cyclist is properly trained to operate an e-bike in the line of duty. 
For example, LAPD requires its officers to first successfully pass a 40-hour Basic Bike Patrol Course on a conventional duty bike before taking and successfully passing its e-bike course before officers can use e-bikes.
Quality training should:
Discuss e-bike technology;
Review e-bike laws (user, access and equipment requirements);
Compare and contrast e-bikes with conventional bikes;
Introduce the skills necessary to transition from conventional bikes to e-bikes.
To find an 8-hour e-bike course in your area, contact IPMBA at info@ipmba.org.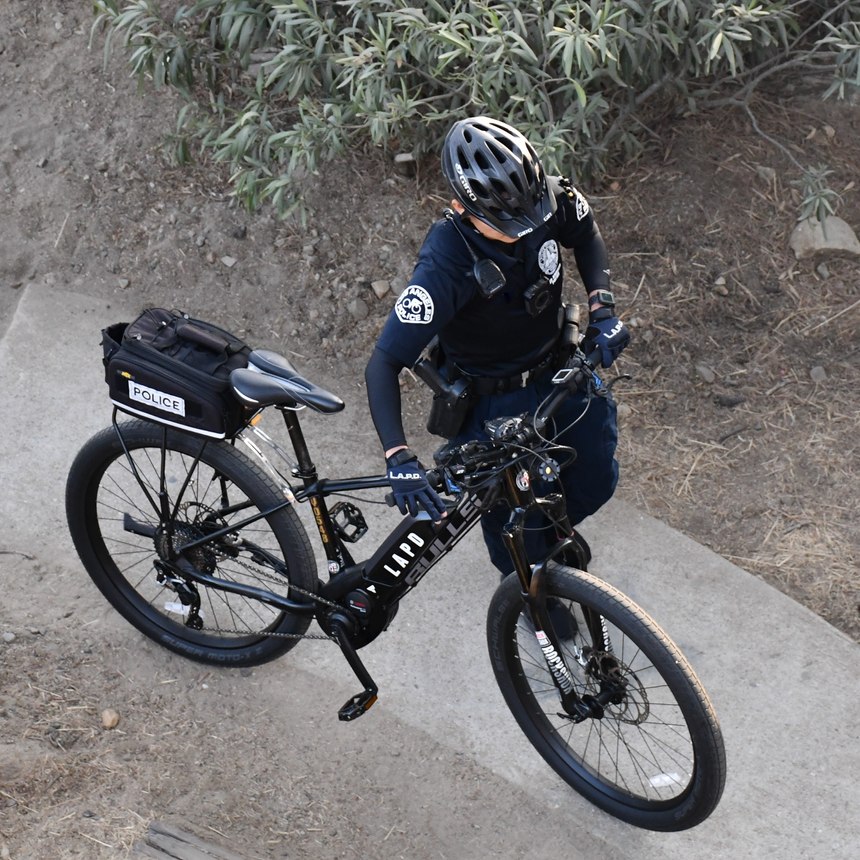 police e-bike USE (DEPLOYMENT AND TACTICS) CONSIDERATIONS
Before or once you have purchased your duty e-bikes, deployment, officer safety and tactics considerations must be addressed prior to use.
Deployment of police e-bikes
In most situations, e-bikes can be deployed as effectively – if not more so – as conventional bikes. Here is a short, non-inclusive list:
Expands beat areas and reduces the need for "park-and-rides."
Facilitates use in hilly areas and other taxing terrains.
Highly effective during rolling events, like long parade routes, motorcades, bicycling and running events.
Effective for executive protection details, with active protectees (runners or cyclists).
In any type of deployment, riders must stay within the boundaries of their individual bicycle-handling and accident-avoidance skills, and e-bike battery limitations.
Officer safety/tactics considerations for police e-bikes
Prior to deploying on e-bikes, officer safety and tactics must be taken into account. Here is a non-inclusive list:
Each electric motor brand/model has its own unique characteristics, including the level of sound depending on the level of support/assistance selected. Consider turning the motor assistance to "OFF" mode (no support, but normally keeps all display functions available) when stealth is important, especially during darkness and if the motor's whining (sound) is detectable.
Depending on the e-bike's computer/display, backlighting (especially during darkness) could be a matter of concern.
Higher speeds can affect all the senses, especially hearing, and contribute to reduced situational awareness. It is also essential to avoid "tunnel vision" and becoming "velocitized."
Higher speeds increase the need for superior bicycle handling skills, as well as a greater understanding of the traffic environment such as sightlines, door zones, hazards and conflicts, blind spots and common motorist-caused mistakes – especially by underestimating an e-cyclist's speed. Excellent cycling in traffic training and resources can be found at CyclingSavvy.
Increased overall weight can be a concern, especially in bicycle response teams or crowd management deployments.
Moving, carrying and/or lifting e-bikes around/up/over obstacles is more challenging.
Expanding the patrol area of bicycle operations can be both good and bad. IPMBA instructor and founding board member Kirby Beck notes, "When you start thinking of bike patrol as you would a motorized patrol, except you go slower – and cover a smaller area – you may be overextending your capabilities. Warning lights and sirens are much less effective, and your 'vehicle' (bicycle) offers you ZERO protection in a crash. An e-bike may go faster, but that only means you can overextend your capabilities and get into trouble faster too."
police E-BIKE RESOURCES
For more information on e-bikes and their use in law enforcement, see IPMBA's E-bike Resources.
I hope this series of articles has been of benefit to your agency in deciding whether to purchase e-bikes, how to select the right e-bike for your needs, and planning for training and use!