5 ways police departments can improve officer traffic safety
How a Texas department enhanced officer traffic safety and accountability after two of its officers were struck and killed by passing vehicles
---
In July, the National Law Enforcement Officers Memorial Fund released its mid-year report on officer fatalities. In the report, which tracks duty deaths and other statistics relevant to policing, the NLEOMF found a significant increase in traffic fatalities. In fact, in the first half of 2021, there was a 58% increase in traffic fatalities – a number that has already surpassed all struck-by deaths in 2020.
As part of the Destination Zero Officer Safety and Wellness Conference, which was held virtually this year during National Police Week due to COVID-19 concerns, Lt. James Preston, with the Harris County (Texas) Constable's Office Precinct #5, a 2021 Destination Zero National Officer Safety and Wellness Officer Traffic Safety Award Winner, breaks down the changes his agency made to achieve an 89% decrease in crashes on Priority One calls over two years thanks to the agency's Officer Traffic Safety Program.
Preston's department, he said, took a data-driven approach to improving officer traffic safety.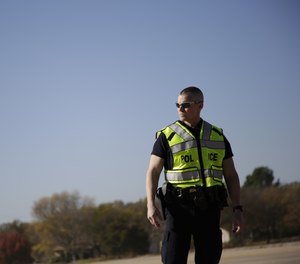 "We started to go through the data and look at line of duty crashes. We found that the majority of our at-fault crashes were from deputies in their first three years on the job," he said. "Many of our line of duty crashes were under emergency driving conditions. We found an overwhelming number of our crashes were happening at intersections and [officers] were under stress while having to make their decisions behind the wheel of the car."
The department's Officer Traffic Safety Program, Preston said, hits close to home as two of three of the agency's line of duty deaths were struck-by deaths. "We lost Capt. Jerry Foster and Deputy Jason Norling after they were struck by passing vehicles," he said. "A lot of what we've done here is in honor of their service and sacrifice."
After analyzing the data, Preston said the department identified five ways they could enhance officer traffic safety and accountability. Below we break down how they achieved this.
1. Implementation of a driving simulator program
To improve officer traffic safety, the department implemented a driving simulator program.
"When we started looking at how officers were being trained, we focused heavily on decision-making behind the wheel, so the driving simulator program was a great thing for that," Preston said. The driving simulator program focuses on individual issues deputies may be having while operating a motor vehicle.
In the past, they have used the driving simulator program to build intersection drills to work with deputies on decision-making regarding vehicle pursuits for a minor traffic violation. Additionally, they have also included a scenario where a vehicle evades an officer going through a school zone and continues to evade officers going the wrong way down a freeway.
"We want to see our deputies recognize that it's getting too dangerous … and see if they will terminate the pursuit or continue to follow this person," Preston said. "Deputies learn how to manage their stress, better deal with decision-making and recognize that the risk may be too high to pursue this person."
The simulator also allows the department to recreate an event – down to the exact roadway, time of day and weather conditions.
[RELATED: How to buy driving simulators]
2. Adoption of the Below 100 training program
The Below 100 training program focuses on reducing law enforcement-related deaths to below 100 per year. Its five tenants are:
Wear your seatbelt.

Wear your vest.
Watch your speed.
WIN: What's important now?
Remember: Complacency kills.
"We customized a lot of this program from stories of our own organization," Preston said. "We told some of the incidents that we've had along with outside agencies here in Texas. It brought a lot of this home to them and made them reevaluate how they were operating a motor vehicle, showing up to work and approaching a lot of the situations they were dealing with on the street."
Placing Below 100 posters on station doors, Preston said, also reminds deputies of the five tenants before they leave to start their shift. 
3. Employing a high-risk vehicle stop program
The department, Preston said, revamped how deputies were approaching traffic stops, as well as high-risk vehicle stops. Previously, the department's training program outsourced its training to other organizations and academies. However, Preston said it wasn't the most cost-effective way, so the department started to internalize its training.
"By developing our own in-house instructors, they became the gift that kept on giving," he said. "We could take that money that we were saving not having to outsource and send people other places for training and be able to conduct this training by ourselves in-house. And we could roll that money into other projects such as better training our instructors and getting equipment we needed like the driving simulator."
4. Focusing efforts on policy updates
The department, Preston said, also focused on policy updates for its Priority One video review process.
"We wanted to hold ourselves accountable," Preston said. "The public expects reasonable decisions and actions on the part of our deputies, and we wanted to make sure we were holding ourselves to that standard."
They also looked at when deputies could run lights and sirens to a call, which they ultimately concluded needed to be approved by a supervisor.
"Any time I would see a high-risk vehicle stop, I would review the video and look for areas for improvement – not because we wanted to discipline folks – but because we wanted to fine-tune and keep improving the outcomes of these things," Preston explained.
Moreover, the department implemented a process of conducting workshops and critical incident debriefs.
"The debrief was a good opportunity for our folks to come in, review what it is we were teaching them, what they did on a specific event, and give them the opportunity to take ownership of their actions and decisions and explain it to us – not with the focus of people facing disciplinary action afterwards," Preston said. "The goal here is enhancing future performance out of our people."
Overall, Preston said having accountable leadership at every level has helped tremendously.  
5. Supporting officers with proper equipment and technology
To ensure officers were safer while out on the street, Preston said the department updated its fleet, which included a handful of safety enhancements, as well as launching a drone program.
From 2017 to 2020, the department added 70-plus vehicles to its fleet with features like HD cameras and LED lighting. The agency also ensured all officers had high-visibility traffic safety vests so they can be seen on the highway.
"If your feet are on the street, your vest is on your chest," Preston said.
Before adding these enhancements, Preston said the department looked at its line of duty crash severity. In 2018, the department had around $100,000 in damage estimates to its vehicles alone. And, on average, the officers involved had about 2.9 years of service.
From 2018 to 2020, the department was able to bring:
At-fault fleet costs down 50.38%
Non-fault fleet costs down 49.45%
At-fault line of duty crashes down 94%
This was accomplished thanks to the officer traffic safety and accountability programs, Preston said. Lastly, the department added a drone program to help during reconstructions of major accidents to keep officers off the roadway for long hours.
[RELATED: How to buy police drones]
Click here to watch all six sessions from the 2021 Destination Zero Conference, which includes other information on cardiac wellness and health screenings, comprehensive officer safety and suicide awareness for law enforcement officers. Skip ahead to 4:26:12 for the session on officer traffic safety.