When body-worn cameras become a matter of the courts
While the use of BWCs by police is still relatively new, there have already been a number of legal cases tied to complex issues surrounding the tech
---
Few forces are impacting law enforcement like video. Policing in the Video Age, P1's yearlong special editorial focus on video in law enforcement, aims to address all facets of the topic with expanded analysis and reporting.
In the first installment of this four-part signature coverage effort, The Video Technologies Shaping Policing, we address how technologies including police drones, throwable robots, body-worn cameras, dash cams, and videos shot by the public are impacting law enforcement. Click here to learn more about the project.
Navigating the complexity of BWCs is a challenge police departments continue to face. If you're in need of BWC training for your department, PoliceOne Academy has several online courses available, including "How to Implement a BWC Program." Start your path to becoming an expert by visiting PoliceOneAcademy.com and submitting a request to learn more.

You enter into a private conversation with another individual in the western section of Idaho and, as per your usual precautionary measure, you record the conversation. The next day, you meet the same individual across the border in Washington, enter into another private conversation and again record it. The same scenario in two different states will bring two opposite legal outcomes.
In Idaho, a one-party consent state, the recorded conversation is legal and admissible as evidence in a civil or criminal trial. However, the recorded conversation in Washington, one of eleven all-party consent states, violates the Washington Privacy Act and can result in civil and criminal penalties. Washington, under Article I, section 7 of its constitution, grants broader protection of individual privacy rights than the U.S. Constitution's Fourth Amendment.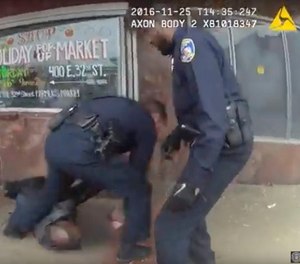 While the individual depicted in the above scenario may be overly suspicious - even paranoid - in dealing with others, the scenario is not so outlandish if you replace the paranoid person with a police officer equipped with a body-worn camera. Instead, individual citizen privacy concerns are now potentially in conflict with legitimate law enforcement investigative needs, especially in the all-party consent state of Washington (and its 10 sister states).
Privacy concerns
A 2014 Washington State Attorney General opinion addressed the potential conflict and held that the state's restrictive Privacy Act did not require law enforcement officers to stop recording a conversation at the request of a citizen since such conversations were not private. "Conversations between law enforcement and members of the public," the Attorney General opinion stated, "are not generally private…" and the state's Privacy Act applied only to private conversations (State v. Kipp, 179 Wn.2d 718, 317 P.3d 1029 (2014); Johnson v. Hawe, 388 F.3d 676 (9th Cir., 2004)).
This is just one example of the number of practical legal issues an agency seeking to implement a policy for officer use of BWCs must consider. Additional policy concerns relate to when to record, chain of custody, storage and retention of recordings, implementation costs and officer acceptance of the technology's use. This last concern is a key element in the effective implementation of an agency's BWC program.
Police-citizen encounters
While the use of BWCs by police is still relatively new, there have already been a number of studies generated on the technology's use and effectiveness. The most cited of this research is the Rialto study which claimed a 68 percent decrease in use-of-force complaints. Whether the decline in complaints is due to a cause-effect relationship between the technology and police officer or citizen behavior is unknown, but such a precipitous drop is also likely due to the fact that a number of false complaints were preempted due to the presence of live video recording.
Although this claim may be largely anecdotal, its likelihood is one reason why officers should embrace BWCs, as many already have within their departments. Still, the use of BWCs has not won over all police officers as converts, just as it has not been embraced by every community interest group as a panacea easing tense community-police relations.
The potential for violent police-citizen encounters is a reality in modern-day policing, but it is no less so than it was in the past. The only difference is the scrutiny our police are under from a public better equipped to record and report on police activity via social media. Oftentimes a police encounter video recorded by a bystander does not capture the whole encounter or distorts its context.
Justifiable response
An officer's BWC may present a different viewpoint from that shown on nightly news broadcasts or social media feeds from a bystander's cell phone camera. It is in these situations that the officer's video footage can be helpful, if not necessary, in clarifying the situation and validating the officer's actions.
There is no better example of the power of an officer's BWC footage than the recently released Baltimore Police Department video of the fatal shooting of a man who, while being chased, turned and pulled a gun on a pursuing officer. The video footage clearly shows the perpetrator reaching into his waistband and turning with a gun to shoot the pursuing officer, who fires one shot, felling and killing the armed individual.
The availability of the BWC video footage is sufficient evidence of the officer's justifiable actions, but its value is in its corroboration of the officer's factual account of events leading to his use of deadly force. Just as important is the video's own undeniable narrative of the drama and danger involved in the encounter, providing the public with as much transparency of the incident as possible.
This incident is one of many around the country in which police officers' use of BWCs have provided a clear, corroborative account of officer behavior. While the availability of BWC video footage has also aided in quieting public criticism of law enforcement's reaction in isolated shooting cases, it should be made clear that even without a BWC program in place many police agencies are still able to deal effectively with the public.
Boston PD is an example of an agency that has an effective community policing program in place, but allegedly scant support among the rank and file for its voluntary BWC program, and officers are still able to sustain lawful uses of force. An absence of recorded video footage from a BWC will not prevent an officer from being cleared in a lawful shooting, nor will an officer turning off the camera for tactical reasons—as in a 2015 Chittenden County, Vermont police shooting of a man wherein officers turned off their BWC devices out of concern the red recording lights or audible recording tones would jeopardize their safety.
Officer misconduct
As beneficial as BWC technology may be for corroboration of an officer's account of events, it can also be the key piece of evidence used to discipline an officer in an internal misconduct investigation or criminal allegation.
Two cases from the Government of the District of Columbia Office of police complaints provide clear examples. In case number 15-0241 (2016 DC Police LEXIS 7), two officers were accused of harassment and unnecessary use of force during a street encounter with a citizen. Physical evidence used in the finding of fact was, among other things, video footage from one of the officers' BWC device. Charges against the two officers were sustained based largely on the BWC video footage reviewed by the complaint examiner.
In a separate case, 16-0053 (2016 DC Police LEXIS 13), three officers were separately accused by a citizen of offenses including failure to identify, harassment and unlawful arrest. Once again the complaint examiner relied on BWC video footage secured from a device worn by one of the officers. The BWC footage was found to corroborate the complainant and the charges against the officers were sustained.
Video evidence
Naturally, not all BWC video footage will be determinative in every case. While video evidence can clear officers, there may be parts of the footage that is not conclusive, yet the audio may provide circumstantial evidence creating a triable issue of fact. Such was the recent case in Simmons v. California Superior Court, 7 Cal. App.5th 1113 (2016), wherein the court found BWC video corroborative of officer accounts except for one allegation regarding digital penetration of the plaintiff's rectum during a body cavity search.
Despite low-light, barely visible video, the audio from the BWC provided the court with enough circumstantial evidence to allow the single claim to proceed. This may be one of the most frustrating aspects of BWC video for the officer, and a reminder that no technology is perfect.
Yet, the march forward in the use of BWC technology continues, and if your department does not presently have a program, it is likely funding will be available to implement the technology in the near future. The degree of input officers will have in program implementation will vary according to the agency and the extent of labor representation. However, it may in the long run be beneficial to all. As noted by the court in Emmons v. City of Escondido:
"The body-worn camera provides a technological aide to better serve the community by protecting both police officers and citizens. An accurate depiction of the contacts between the police and community improves public safety, provides an objective means for evidence gathering, and serves as a valuable training tool for police officers." (168 F. Supp. 3d 1265 (S.D. Cal., 2016)).
The police officers in Emmons responded to a 911 call for a welfare check and potential domestic complaint. Events at the residence would lead to the arrest of one occupant, subsequent dismissal of the criminal charges by the district attorney, followed by a civil rights lawsuit against the officers. The federal district court judge in Emmons, upon a motion by the defendant officers, dismissed the individual claims against the officers. In doing so, the judge wrote:
"The court notes that if a picture is worth a thousand words, a video from the body-worn camera of a law enforcement officer during a "contact" giving rise to litigation may be worth a thousand pictures. Such is the case here. The video shows that the officers acted professionally and respectfully in their encounter with Plaintiffs."
Ideally, the benefits of BWCs discussed by the Emmons court, for police and public alike, is what we hope will be the result.