Off-duty and concealed carry pistol options are better than ever
More options in this market means more officers will be carrying off duty, which is a good thing considering the threats cops and citizens face in today's world
---
One of the benefits law enforcement officers have enjoyed over the last few decades has been the proliferation of compact and subcompact pistols in response to concealed carry legislation across most of the nation.
Increased focus on that market has resulted in a corresponding increased level of quality in diminutive defensive pistols.
There was a time when that wasn't the case. Up to the early 1990s, subcompact pistols – the few that were on the market – were considered not terribly reliable. Options for off-duty and concealed carry are better today than ever before.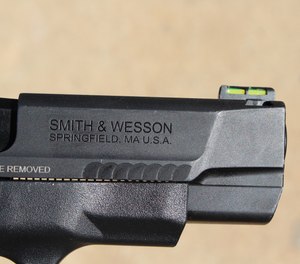 Smith & Wesson is a good example. An officer can choose from a slightly abbreviated version of the company's double-stacked magazine M&P duty pistol all the way down to one of the many variations of the single-stacked magazine Shields.
I carry an M&P 2.0 Compact with a four-inch barrel off duty and an M&P9 full-size pistol with a five-inch barrel at work. I only lose two rounds of ammunition capacity and an inch of sight radius when not actively on duty.
The Smith & Wesson Performance Center was kind enough to send me one of the new Performance Center 2.0 Shields with the four-inch barrel. As most of you know, barrel length isn't really that critical for defensive purposes, but sight radius can be ‒ especially for those of us with BLS (Blurry Sight Syndrome). As sight radius decreases, mistakes in sight alignment are magnified exponentially on the target. Since cops are more likely than armed citizens to proactively engage targets at distance, sight radius is a greater consideration for us.
Range Time
I was anxious to shoot this new pistol considering my good experiences with all the M&P Shields I've shot and owned in the past. This was the first time I'd handled one of the four-inch barreled Performance Center Models. I was curious how much difference in performance there would be compared to my regular off-duty carry pistol M&P 2.0 Compact, which has a 15-round magazine capacity.
I took the pistol to my local indoor range and hung a few Vikings Tactics VTAC targets. The VTAC has a 6" x 6" center-of-mass scoring box and a 4" x 5.5" head box.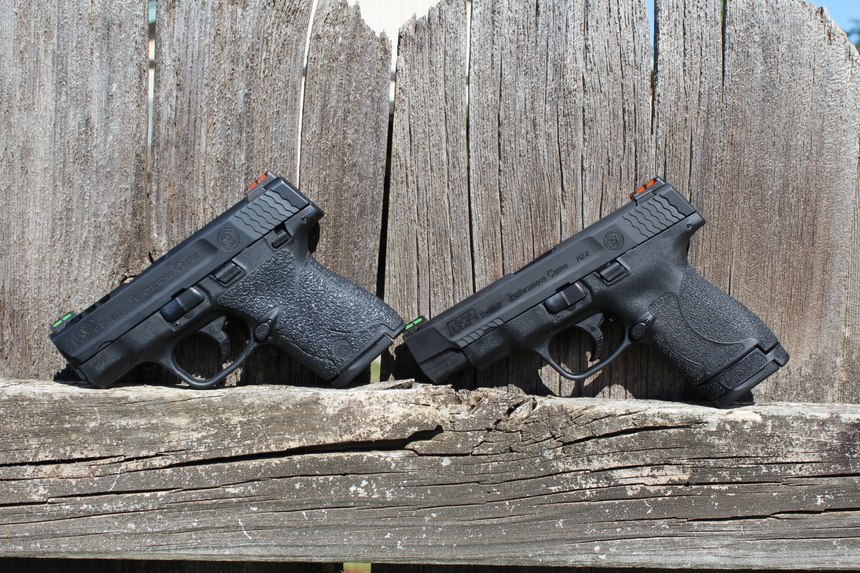 Starting cold at 15 yards, I fired a nine-shot string (a full magazine plus one in the chamber) with a cadence of two shots per second. All rounds except one I "milked" were in the six-inch scoring box.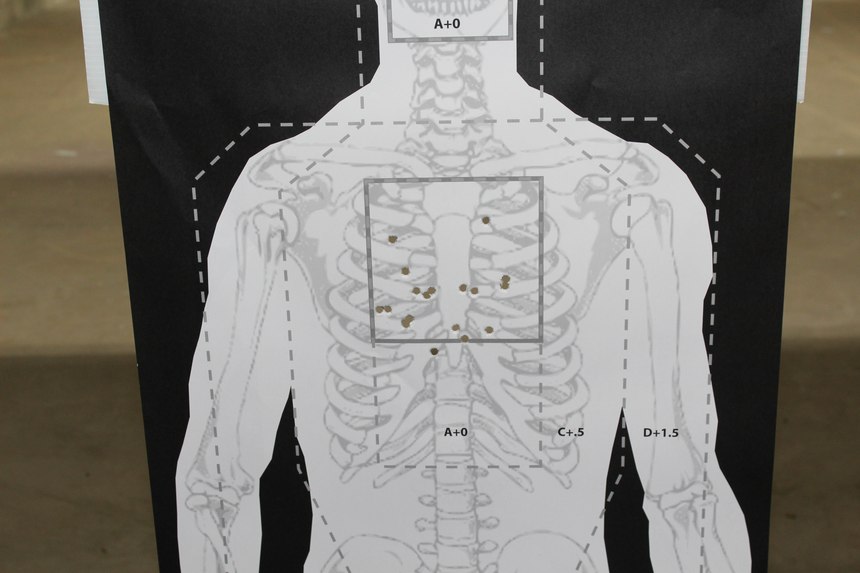 Impressed, I moved the target out to 25 yards and fired an additional nine rounds – this time at a cadence of one round per second. All nine rounds were within the scoring ring.
Pressing my skill, I fired five shots in 2.5 seconds at 15 yards at the head box. All were in. Keep in mind, I'm an average shooter on a good day. In short, I got very similar results with the Shield as I do with my M&P 2.0 Compact but with a much smaller package.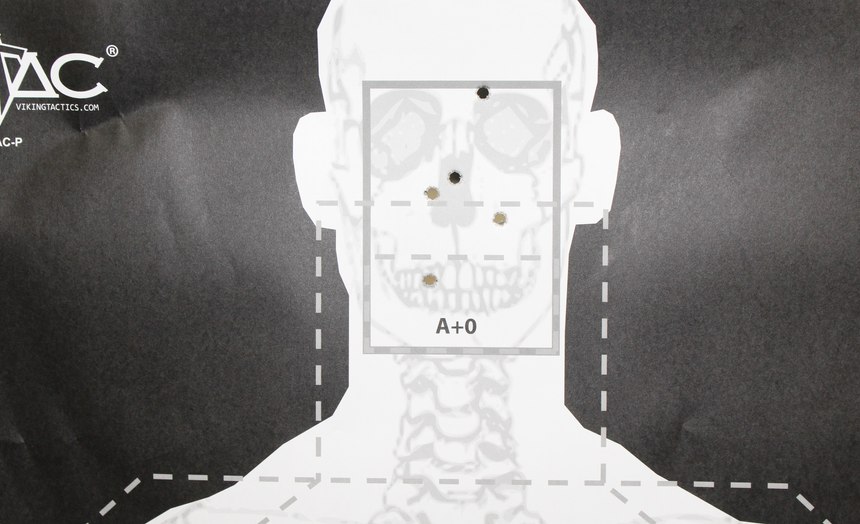 To verify my results, I asked the owner of my indoor range to shoot the Shield. He had similar results and actually took the experiment further by excelling with the pistol one-handed. That left little doubt that the extra inch of sight radius helps to make Shield a perfectly viable off-duty gun for cops. Of course, the pistol functioned perfectly in a few hundred rounds of mixed Federal FMJ and 124 grain HST +P.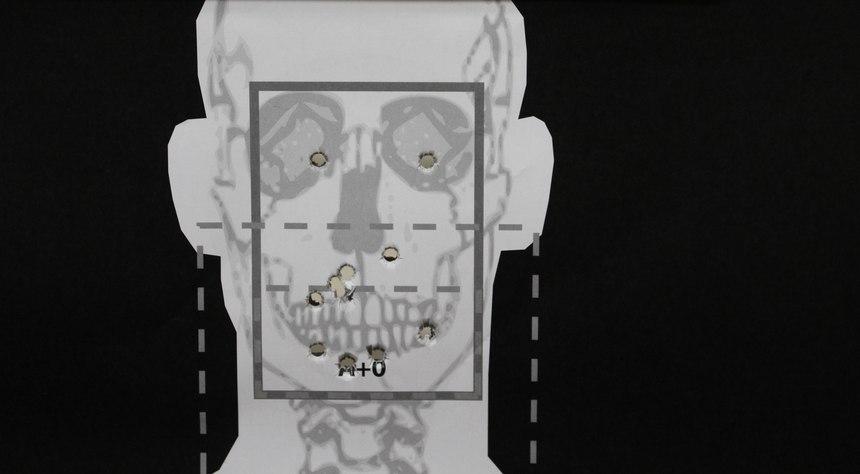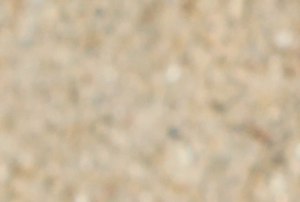 Features
In addition to the quality and reliability of present-day compact and subcompact pistols, manufacturers are stepping up their game in the area of features. For example, Smith & Wesson M&P Shields are available with fiber optic sights, miniature red dot sight (MRDS) capability and aggressively textured grips.  
Fiber optic front sights are becoming more useful for those of us who suffer from BLS. The same can be said for the ability to mount mini red dot sight (MRDS) optics.
At least in the case of the Smith & Wesson Performance Center Shield, the grip texture is the perfect balance between comfortable carry and hand-to-pistol purchase.
Ported barrels are yet another option among the many from which you can choose.
Downside?
There is really only one downside to a pistol like the four-inch Shield: capacity. The Shield comes with seven- and eight-round magazines, while the compact 9mm M&P pistol I carry comes with a 17 + 1 round capacity. Whether that is worth the extra weight and bulk is up to the individual. What is not debatable is that more options in this market means more officers will be carrying off duty. Considering the potential threats cops and our fellow citizens are facing in today's world, that's a good thing.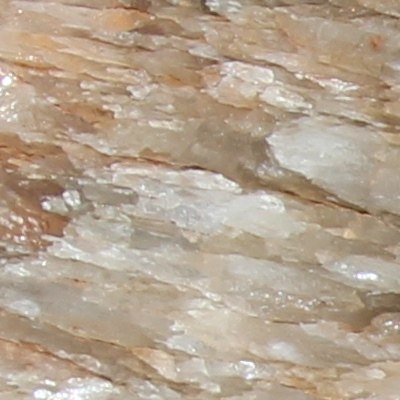 Specifications
SKU: 11787
Model: Performance Center

M&P9 SHIELD

M2.0 4" Barrel
Caliber: 9mm
Capacity: 7+1, 8+1
Barrel length: 4" / 10.2 cm
Overall length: 7.0"
Front sight: Fiber optic green
Rear sight: Fiber optic red
Action: Striker fire
Grip: Synthetic
Weight: 20.9 oz/592.5g
Barrel material: Stainless steel
Slide material: Stainless steel
Frame material: Polymer
Slide finish: Armornite
Frame finish: Matte black
Purpose: Home protection, personal protection, recreational shooting
SHOT SHOW 2020
Police1 columnists will be checking out the latest compact and subcompact firearms at SHOT Show 2020, scheduled for January 21-24 in Las Vegas, NV.
If you are going to SHOT Show, check out Smith & Wesson in Booth 13729. Also drop by the Police1 booth to say hello, learn how we've secured over $150 million for departments through our Grant Assistance Program, and pick up some P1 swag.